Spielwarenmesse 2023
At the beginning of February 2023, we visited one of the largest and most important international toy exhibitions Spielwarenmesse 2023 in Nuremberg. It is held every year in February except for the last few covid years, this show showcases the latest toys and games from manufacturers around the world. At the exhibition, visitors can view and try new products, meet manufacturers and learn more about the latest trends.
Spielwarenmesse is considered one of the most important events in the toy industry and is a source of inspiration for traders, designers and toy manufacturers worldwide. A wide range of toys, games and other products for children were presented at the exhibition. From classic toys, construction kits, electronic games, interactive toys to necessities for the little ones.
Even we from KINT s.r.o. we wanted to be inspired and we were looking for new trends mainly from the area STEM toys. We came across many interesting products that will delight not only children, but also parents.Therefore, you can look forward to the expansion of the offer in our online store kids.kint.cz (only for the Czech market).
The best toys
The organizer of the fair presented and praised a selection of top toys that are focused on the development and education of children. These were primarily wooden puzzles, board activities for babies, educational cognitive games for older children, etc. You can find 6 innovative products of the fair awarded by the organizer here.
We mainly noticed smaller or less well-known brands offering very interesting and unusual products. We also caught the eye of some very high-quality products with a long history that have no competition, as well as new "start-ups", financially and marketing-supported by already established multinational companies.
Without being motivated by any benefit, cooperation or paid advertising, we can mention a few of the following products.
Moby Dick
Moby Dick is a Japanese company that designs and manufactures a kit from pressed paper profiles. The kit is sold in several sets and as separate parts. The basic set is intended for the smallest children, it contains parts from which the child can build a simple construction of a house. Larger sets already contain more parts with different types of building structures. Another type intended for older children already offers adjustable parts, positioning couplings, hinges, etc. These more complex types already allow you to engage your imagination and create your own more complex constructions.
The exhibitors told us that the kit is mainly sold to kindergartens and schools as a teaching aid. Exhibitors or organizers of cultural events also often purchase the kit, where they can use the kit to create constructions of various sizes, as well as functional and decorative constructions.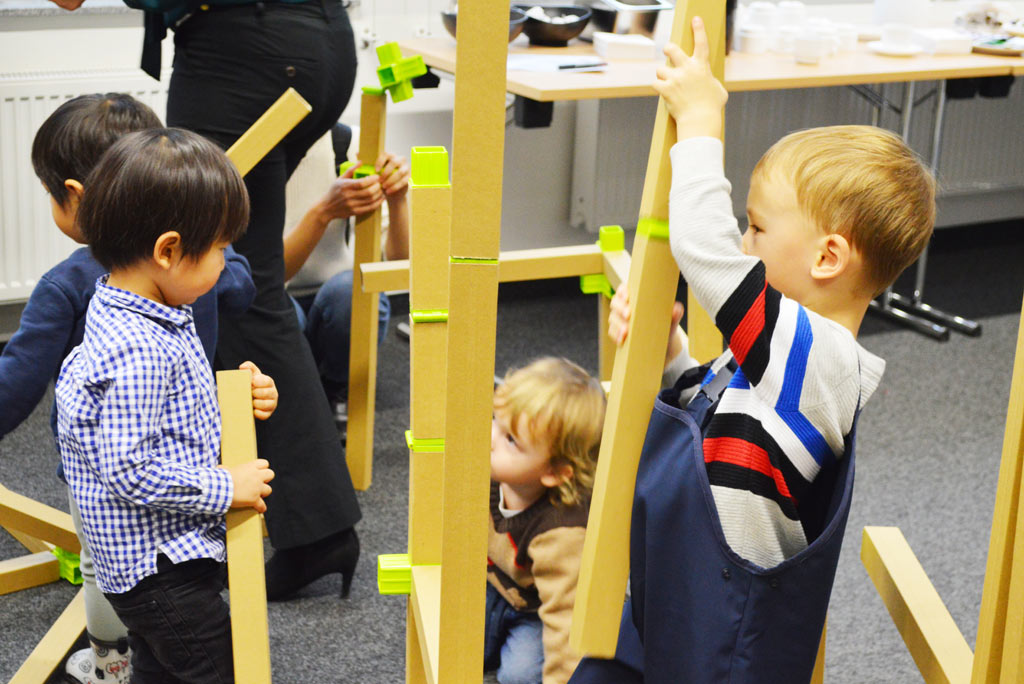 3Doodler
3Doodler is a relatively new product of an American start-up. It caught our attention because it is an (un)ordinary melting gun or glue gun with a very narrow and precise thread of melting (or adhesive) material. From another point of view, 3Doodler can be seen as a simple 3D manual printer, i.e. without a programming plotter, where you create the product yourself.
3Doodler offers many sets, materials and accessories for different types of customers such as children, schools, kindergartens, but also creatives and modelers. They have 2 basic pistol types. The first for children, where the tip of the gun is safe and the melting takes place at a lower temperature, so the child does not get burned. The second type is for older children and adults with a classic hot melting tip.
It is a very interesting product for a wide range of uses, for the development of creativity as well as technical thinking, which can also be used as a helper for small household chores.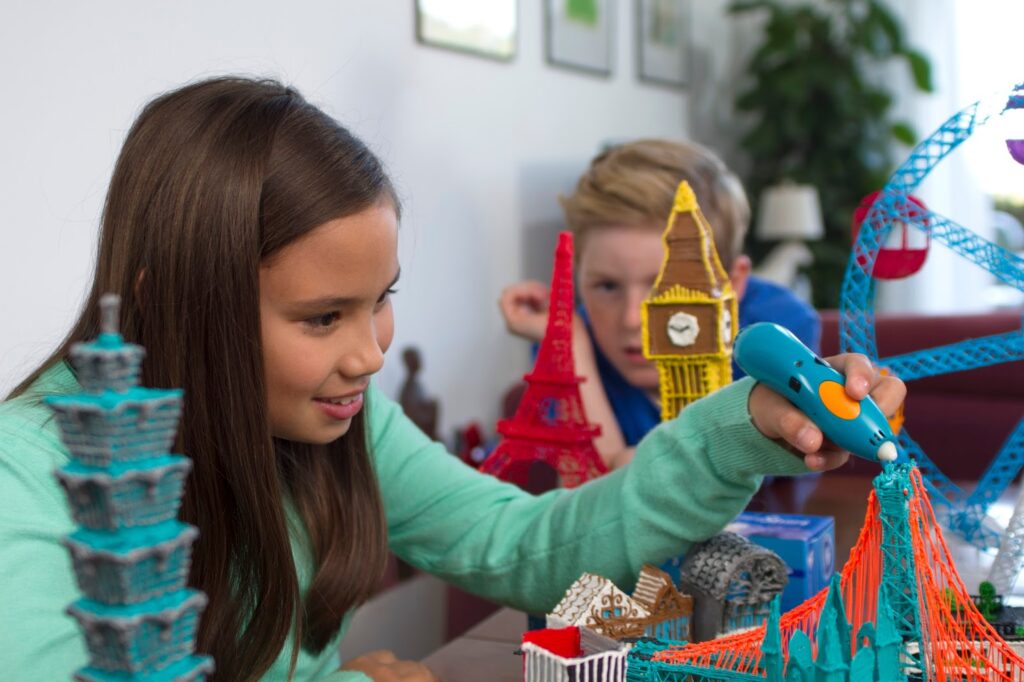 Navir
Navir is an established Italian manufacturer of toys in the field of optics and didactics since 1968. The stand with Navir products caught our attention because it offers an unusual and very extensive range of (not only) optical devices (magnifiers, binoculars, microscopes, projectors, etc.). They are fairly common devices even in the field of STEM toys, but Navir manages to really excite with its product portfolio and design. It provides very eye-catching shapes and colors, as well as manuals and useful accessories or preparations for observing nature and natural phenomena.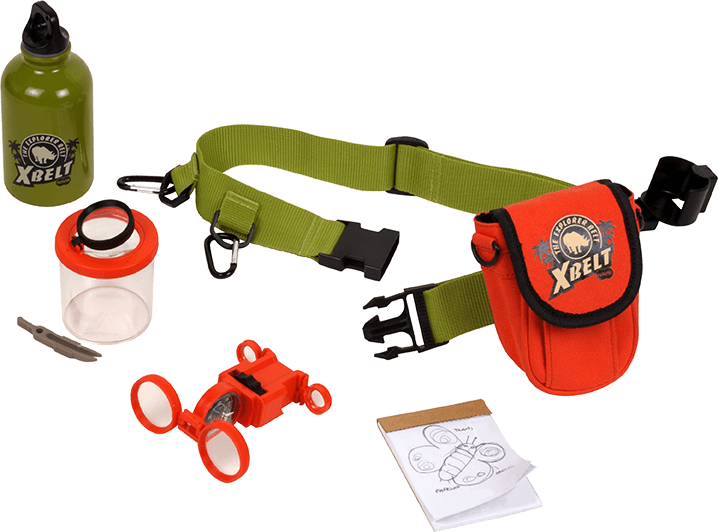 PLAYmake 4 in 1 workshop
PLAYmake 4 in 1 workshop is an Austrian product that offers children's workshop equipment. There are again two types: simple children's for home use; or for older children, but also schools, offering better processing of final products. PLAYmake is actually a simple puzzle from which you can assemble a small, functional and safe lathe, grinder, drill or milling machine.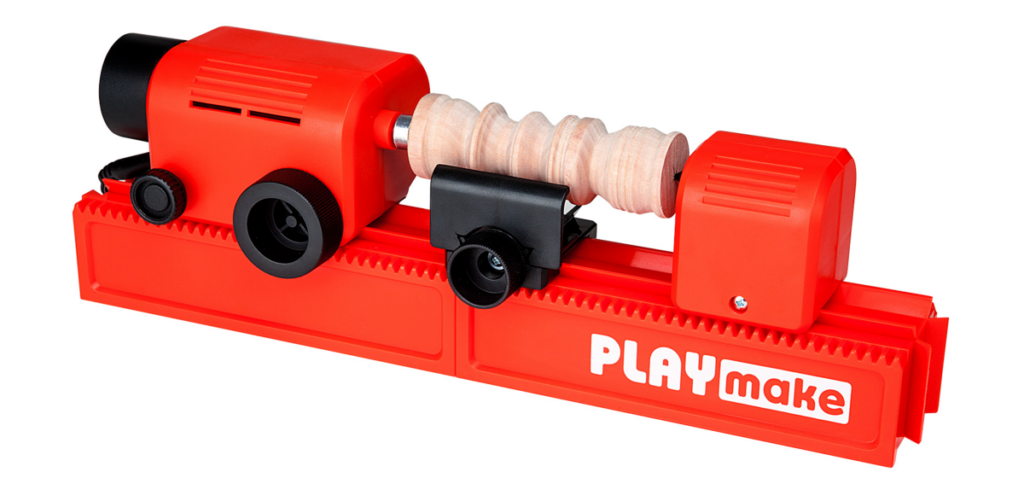 ArTeC
ArTeC is again a Japanese kit. This time it's not building structures, but small plastic parts that you stack on top of each other. In the ArTeC Robo series, you can also connect electronic components, so you can use the kit as a cybernetics workshop. From the kit, you can assemble and program a functional robot, for example, and buy and connect various sensors, motors and programming parts.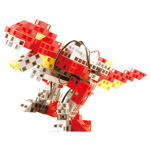 CUBORO
From electronics, we are returning to natural materials. The traditional Swiss wooden CUBORO kit is a very simple ball track, or wooden cubes. Depending on your imagination and the number of available cubes with different grooves and holes, you can put together a path to guide the ball along the desired path to the target. Composition develops creativity, dexterity, but also logical thinking.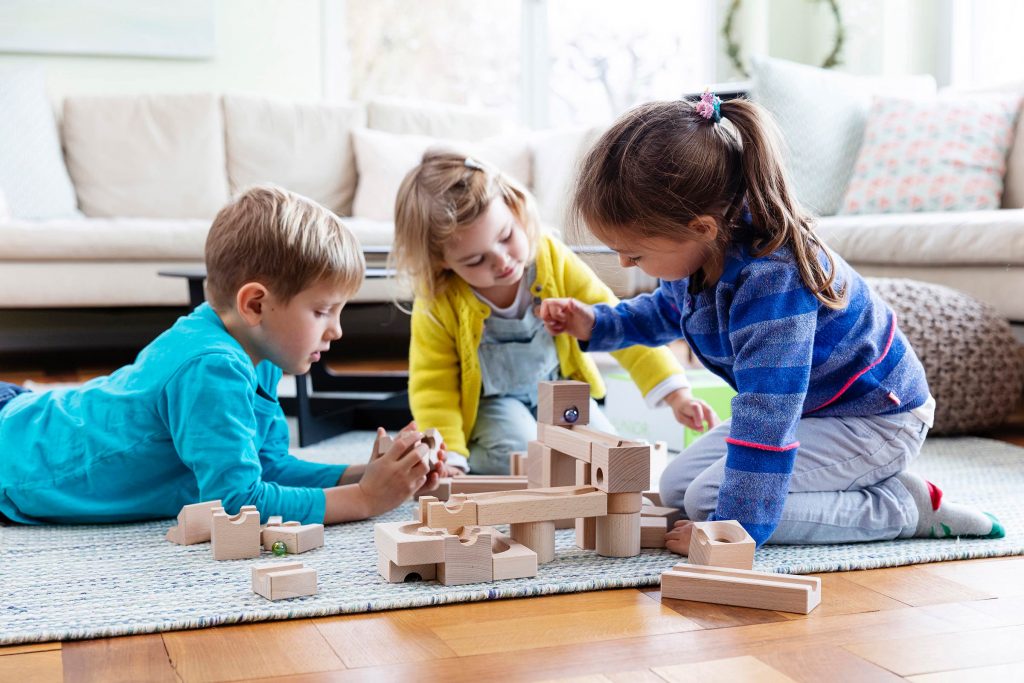 GraviTrax
Another ball track, but this time innovative and interactive, that's GraviTrax. It is a kit with many different parts. At the exhibition, it attracted a lot of attention from afar, even though it was not the biggest presentation. GraviTrax also has many kits and parts. It can be thought of as a construction kit, but also as a competitive game or a system full of electronic and telecommunication technologies.
For more information, we recommend going through the presentation directly at Ravensburger here.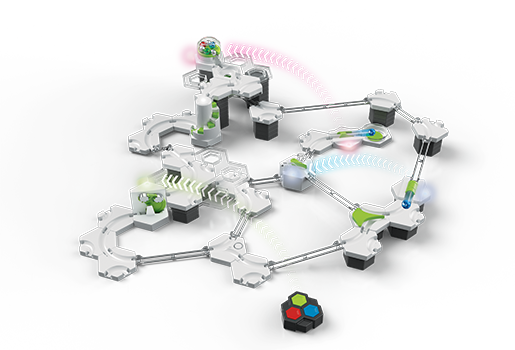 CircuitMess
CircuitMess are electronic kits for electronics and cybernetics enthusiasts. It is a relatively new project of the young founder Albert from Croatia. CircuitMess offers a variety of kits that help you learn how to solder electronic circuits, how to program, how to think about their functions, and then how to use a functional final product. You can make, for example, a mixer or amplifier, a calculator, digital games, a communicator, a robotic hand, etc.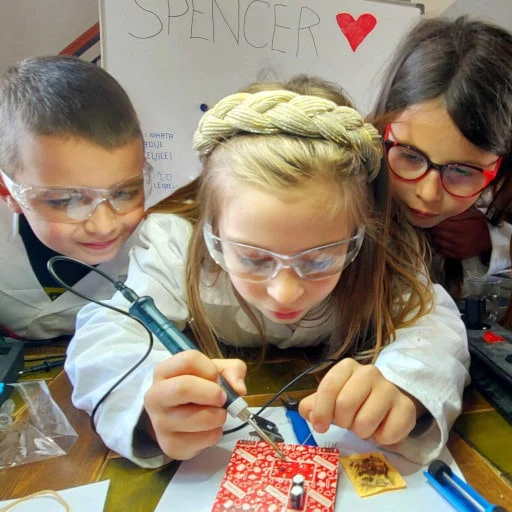 Bildits
Bildits is a project of engineers from Lebanon. The Bildits set contains material and preparations for building a small model house or building structure. The set contains bricks, cement for casting monolithic constructions (base and columns), glue for bricks, formwork and wires representing a curry net, concrete reinforcements. You can build according to your own imagination or choose a variant according to the instructions.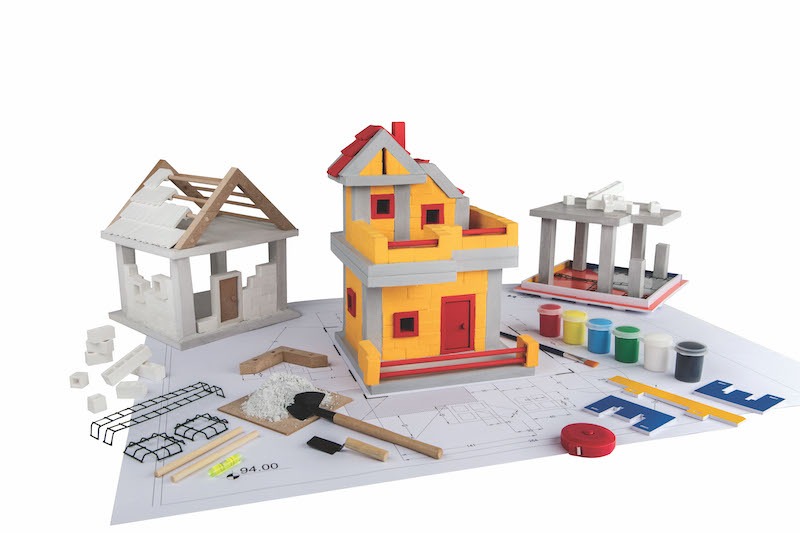 ARpedia
ARpedia is a South Korean interactive book. It is an ordinary book that you put on the table and you can read from it in the classic way and show children pictures of how the world was created, who the dinosaurs were, how to behave in nature and the like. However, you can place a tablet or mobile phone with the ARpedia application on the stand with the camera in front of the book.
After turning on the application, using augmented reality technology, you will see the same book on the tablet screen, but with animated 3D characters coming out of it. These characters tell a story that they themselves are a part of. Children go through the pictures and flip through the book together with virtual friends. The books contain many spoken words and interactive games. For example, children have to figure out how to get apples from a tree that are very high – the solution is to call their friend the giraffe, who collects the apples.
ARpedia offers three book series. Curiosity Q with general information and stories about the world. Communities, stories from life, interesting social places or activities. AR Science Lab – e.g. chemical laboratory in augmented reality.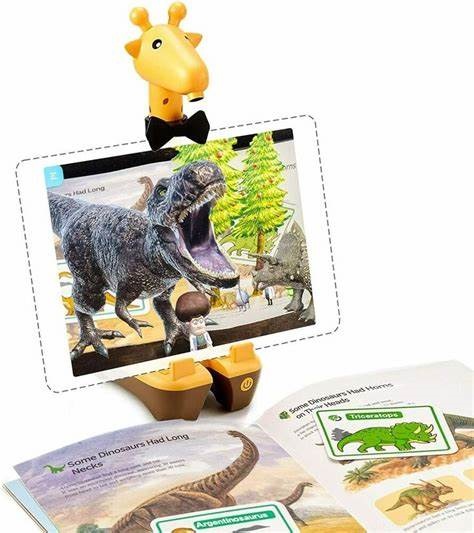 Modern technologies, metaverse, NFT (Mattel NFT)
As ARpedia suggests, the world of entertainment and toys is slowly but surely moving into virtual reality. ARpedia is an augmented reality, which is nothing new, but modern times appear more and more with concepts such as metaverse – virtual world. In the commercial virtual world, the metaverse, so-called blockchain technologies are used for the unique identification of various virtual worlds, land or objects using blockchain-based NFTs (non-fungible tokens). Industry is also investing in the development of technologies based on similar principles, as we already mentioned in the article Internet věcí IIoT, Digital Twin, Industrial Metaverse (kint.cz)
Our expectation was to find similar technologies in the children's environment, i.e. for children to be able to correctly recognize what is and is not virtual, what is and is not safe. Just like the world of metaverse or NFT. At Spielwarenmesse 2023, there was a section dedicated to technological innovations, including a company offering the creation of virtual worlds, and behind them the logo of Mattel, which already sells collectible NFTs such as HotWheels or Barbie. More about technology and purchasing Mattel NFT here.

In the connection of Mattel NFT and metaverse, we got the impression that there is already a preparation or a chance to use the purchased NFT in virtual reality, as it is for example in other commercial NFT. We can imagine, for example, that by purchasing an NFT, the physical object will also be connected to the virtual one in such a way as to simulate the Digital Twin technology.
Unfortunately, we were unable to arrange a meeting with a Mattel representative on this topic at the last minute. After a short search on the Internet, we concluded that it is probably too early for similar use and that similar news await us in the short future. We have something to look forward to 🙂
Conclusion
Z Spielwarenmesse 2023 jsme odjížděli plní dojmů a s mnoha novými informacemi, zážitky a kontakty. Pokud se Vám v tomto článku prezentované produkty líbí, neváhejte nás sledovat a lajkovat na všech možných sociálních sítích (Facebook, Instagram, LinkedIn, Youtube).
News from the world of games and toys: modern technology for children?